Corn Chowder
PREP TIME: 10min
COOKING TIME: 15min
TIME TOTAL: 25min
Ingredients
1 medium sweet potato (approximately 140g)
1 small onion (approx.. 60g)
50 g red pepper
80g frozen sweetcorn kernels
200ml vegetable stock (made using an unsalted vegetable stock cube)
100ml of baby's usual milk *
Utensils
Saucepan
Handheld blender or food processor
Method
Peel and chop the potato into cubes. Finely chop the onion and red pepper.
Place the potato, onion, red pepper, sweetcorn and stock in a medium pan and bring gently to the boil.
Simmer for 15 minutes until the potatoes are cooked through.
Transfer to a food processor or using a handheld blender, process to a thick purée, then stir in enough milk to make a smooth puree. Do not add any salt.
Serve warm.
Tip
Cool any leftovers and transfer to ice cube trays and freeze to provide convenient portions for future use.

Good to know
Sweetcorn recipes for babies are a perfect weaning food as it contains vitamin C.
Popular recipes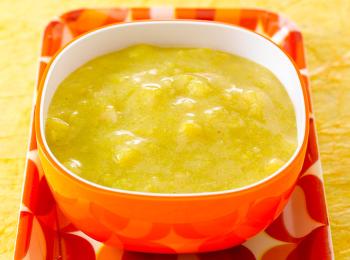 Recipes
Our Aloo Chana curry recipe for babies includes an assortment of exciting ingredients, including cinnamon and turmeric, to encourage your baby to try new flavours.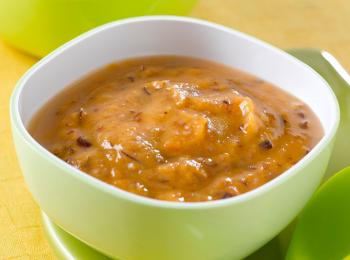 Recipes
For a yummy homemade purée, try this easy recipe with sweet potato for babies.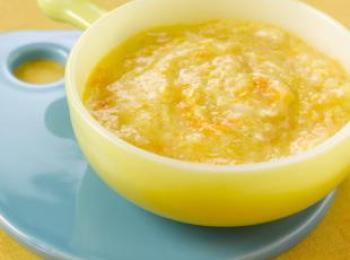 Recipes
Try our chicken casserole recipe and make your little one a dish that they can enjoy at lunch or dinner!