Sweet Potato and Kidney Bean Puree
PREP TIME: 5min
COOKING TIME: 15min
TIME TOTAL: 20min
Ingredients
2 medium sweet potatoes (approximately 260g total weight) 
100g canned red kidney beans, well drained and rinsed
45m-60ml (3-4tbsp) of baby's usual milk *
Utensils
Saucepan
Handheld blender or food processor
Method
Wash, peel and dice the sweet potato into small cubes. It doesn't matter too much what size they are, as you will blend them later.
Add the sweet potato to a pan of boiling water, reduce the heat, and simmer for about 5 minutes.
Add the kidney beans and continue cooking for a further 5-10 minutes, or until the sweet potatoes are tender. Drain everything.
Add the milk and blend it all together, using either a handheld blender or food processor. Make sure you don't add any salt.
Feed your baby while the purée is still warm, remember to check the temperature before feeding it to your baby.
Tip
Cool any leftovers and put it in ice cube trays and freeze. This will provide convenient portions for future use.
Good to know
We love cooking up sweet potato recipes for baby meals, as they're a colourful, sweet vegetable that will help them learn about new tastes and textures. When using canned kidney beans, just remember to drain away the brine and thoroughly rinse to remove any salt from the brine solution.
Popular recipes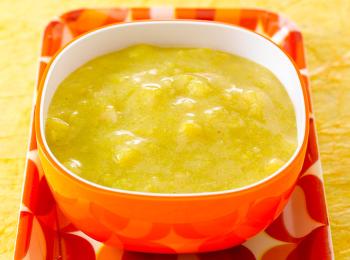 Recipes
Our Aloo Chana curry recipe for babies includes an assortment of exciting ingredients, including cinnamon and turmeric, to encourage your baby to try new flavours.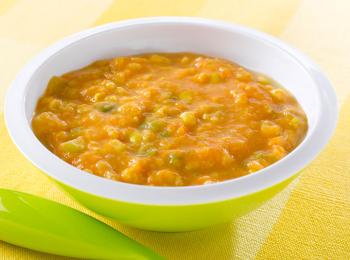 Recipes
Try our corn chowder recipe that is full of interesting vegetables such as peppers, sweet potato and sweetcorn.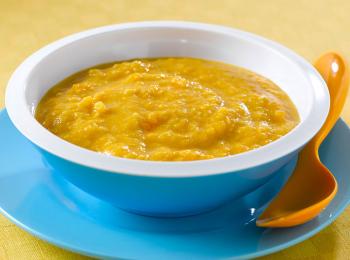 Recipes
Try our lentil baby food recipe, a great dish that can be ready in less than half an hour!